Main content starts here, tab to start navigating
WE'RE OPEN for ON-SITE and TO-GO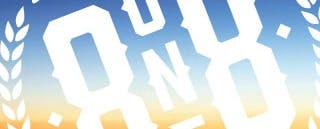 We're OPEN: See details below
INDOOR AND OUTDOOR SERVICE: 7 DAYS A WEEK
Monday : 5 - 10pm
Tuesday : 5 - 10pm
Wednesday : 5 - 10pm
Thursday : 5 - 12am
Friday : 1pm - 12am
Saturday : 1pm - 12am
Sunday: 1pm - 8pm
What started as a two week promise turned into June 15, 2021 and it's now re-opening day for California! We've followed the COVID protocols set by our regulators and this will be no different.
We're happy to report that you will find "normal" back @ 8one8
NO more social distancing
NO more capacity limits
NO more colors or county tiers
NO more household table limit
YES, BAR SERVICE IS BACK!
It's a Good Day! Come have one!
We're a community hub which get's a crowded buzz going, most of our seating is community style. Come solo, come with friends but if being around people in a close environment causes you any covid anxiety it probably would be best for you to wait until you're comfortable in this style environment. We do offer our beer ToGo if you're not ready to enjoy the tasting room yet, but when you are we will be here to cheers ya!
To order To-Go stop in and place your order at the register or place a pre-order online! Cheers and thanks for your support and welcome back to what 8one8 was built for...ENJOY!
If you have any questions, comments or concerns please talk to a staff member or email info@818brewing.com